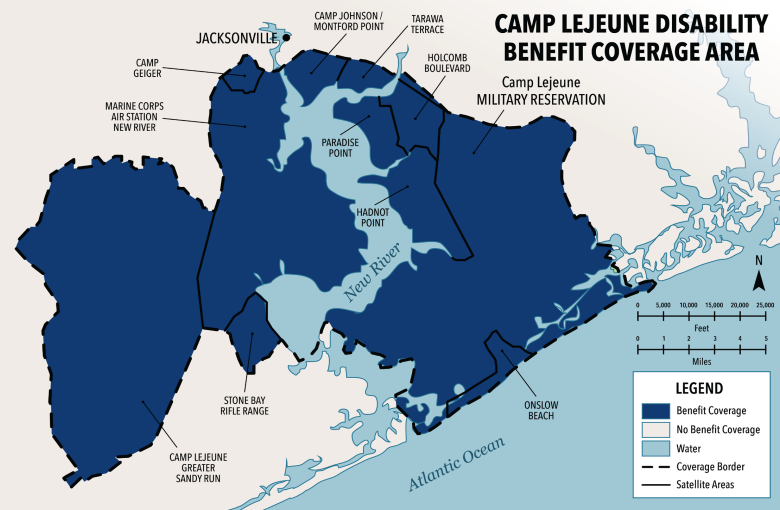 If you served at Marine Corps Base Camp Lejeune or Marine Corps Air Station (MCAS) New River in North Carolina, you may have had contact with contaminants in the drinking water there. Scientific and medical evidence has shown an association between exposure to these contaminants during military service and the development of certain diseases later on. If you have a qualifying service at Camp Lejeune and a current diagnosis of one of the conditions listed below, you may be able to get disability benefits.
What was in the drinking water at Camp Lejeune?
Two on-base water wells that were shut down in 1985 had these chemicals:
Trichloroethylene (TCE)
Perchloroethylene (PCE)
Benzene
Vinyl chloride
Other compounds
Are Veterans and their family members covered for health care?
Yes. Veterans who served at Camp Lejeune or MCAS New River for at least 30 cumulative days from August 1953 through December 1987 —and their family members— can get health care benefits. We may pay you back for your out-of-pocket healthcare costs that were related to any of these 15 conditions:
Bladder cancer
Breast cancer
Esophageal cancer
Female infertility
Hepatic steatosis
Kidney cancer
Leukemia
Lung cancer
Miscarriage
Multiple myeloma
Myelodysplastic syndromes
Neurobehavioral effects
Non-Hodgkin's lymphoma
Renal toxicity
Scleroderma
Camp Lejeune Justice Act
The Camp Lejeune Justice Act of 2022 was signed into law on August 10, 2022.
An estimated 900,000 veterans, family members, and nearby civilians may have been exposed to unsafe drinking water due to toxic chemicals at Camp Lejeune. The water contamination is linked to industrial spills, underground storage tanks, and an off-base dry cleaner and is associated with various health conditions. Time is limited to file claims under the Camp Lejeune Justice Act.
Those eligible have two years from August 10, 2022 to file a claim.
If you or a loved one developed cancer, neurological disorders, or another disease from contaminated water at Camp Lejeune, the law affords remedies, contact us to schedule a free, no-obligation case review.